.
The most generous
tamakin was kind enough to add lyrics to one of her marvelous manips just cause I mentioned how her work brought them to mind.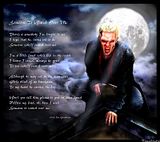 Nothing on earth like a watch!vamp to make one feel safe and secure.



Now I just have to figure out where to best display it. Gee... perhaps a new fic? **beats bunny to an ugly,fluffy death**
.