.

Seems the Spuffy Awards Round 12 have just been decided, and Beloved has hauled in a little much appreciated bounty!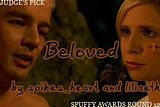 Judges Pick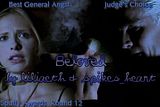 Best General Angst - Judges Pick




On a separate note, it seems that the awards site will be closing down now that the round has been completed, after a nearly 4 year run. I'm sorry to see them go... they've been a lovely source for good reading over the years.

I'm sure those running the site will be more than happy to find a little spare time in their schedules. **smiles and wishes them luck in new endeavors**


liliaeth and I are tickled pink, and Buffy!Muse is inordinately pleased by the lovely tribute and she's urging us to continue with Chapter 24, or, including interludes, the 45th part of the story.
.