.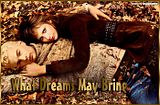 Click for full-sized image

Graphic by the talented
noaluvjames for What Dreams May Bring,
specifically for Chapter 12


And lo, Beloved has been nominated once again. This time at:





The Burst Into Flame Awards for:

Best WIP, Best Long Fic, and Best Angst/Drama



All-in-all, this makes me happy. I like feeling happy. I don't feel it often enough. Thank you so much, Nomination Fairy, whoever you are. You'll find virtual cookies waiting for you by my computer.

Buffy!Muse is well pleased.

.