.



I'm feeling rather happy and sappy at the moment. My not-so-sekrit admirer has nominated
liliaeth's and my joint effort - Beloved - for several awards.





Spuffy Awards

Nominated for: Best General Saga, Best General Angst, and Most Original Plot categories

and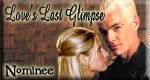 Love's Last Glimpse Awards

Nominated for: Best WIP, Best Angst, Best Future Fic, and Best Plot categories




Finally updated Heartsongs with three exquisitely lovely fic banners by the very talented and uber-generous
spikeshunny. Go look... and read, of course... and tell her what a fine job she did!

.