.
Just in case you missed the previous chapter,
#30 - Should Auld Acquaintance Be Forgot
, you can find it
Here
, originally posted June 28th, 2008.
liliaeth
and I are happy to present the latest chapter of our little epic. Please follow the Warning Alert System.
Early May - 2018
Will is nearly 14 years old
Green Alert
Time has finally passed for our Will. In this chapter he meets up with… yeah, playing the coy card again. Click the link, to find out the company he's keeping.
Please, as always, read and comment! Buffy!Muse is most pleased. The American League has won the All-Star game yet again, though it took fifteen innings to do so. Oh, wait - that could be me who's pleased. Either way, happy muse; happy me… ficcage ensues.
Feedback is always welcomed.
Goddess bless
highwaywoman
, my first and foremost mentor,
gillo
, who snuck in her usual excellent beta work before she left for a well-deserved vacation, and
just_sue
, who's being a dutiful, loving daughter this week to her mum.
To read
Beloved
from the beginning, go to my Live Journal
Here
or to
simply_beloved
:
chapter 1
.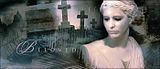 Full sized banner by
zugma
beneath the cut.
(
Collapse
)
.