.
Here's the next chapter from
liliaeth
and myself. Hopefully you're all still here with us. Please follow the Warning Alert System.
March 2015
Green Alert
In which we have a reunion of old friends, though to tell you how it went would be to give it all away. What're you waiting for? Go on… Read! **grins** This follows several months after the previous chapter.
Please, as always, read and comment! With the hot weather rolling in, we decided to pamper Buffy!Muse by gifting her with a cool swimming pool (deep ceramic bowl, anyway). Next thing you know, she'll be looking for a little Cabana Boy!Spike to stroke her… ego. As long as the story seems to be moving ahead, finally, we'll indulge her.
Feedback is always welcomed.
Goddess bless
highwaywoman
, my first and foremost mentor,
gillo
, whose life experience has proven to be an invaluable resource time and time again, and
just_sue
, my beloved 'nag', who keeps after me because she loves me (hugs her tightly).
To read
Beloved
from the beginning, go to my Live Journal
Here
or to
simply_beloved
:
chapter 1
.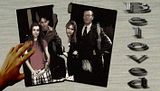 Full sized banner by
liliaeth
beneath the cut.
(
Collapse
)
.