.
liliaeth
and I have the next interlude of Beloved ready for your reading pleasure. We're still three months into William's captivity. Man, time is just crawling, isn't it? Please follow the Warning Alert System.
2014
William is still just ten years old.
Green Alert
Yup – you guessed it. More talking. But this time we fill you in on the lives of three people long missing from the saga. Maybe four.
Please, as always, read and comment! The muse has abandoned her search for the perfect wig. She thinks she looks right fetching with her own pixie hairdo, and so do we. We've packed her chains into the box kept under the bed and promised to bring 'em back out only if she's a really good girl. Feedback is always welcomed.
Goddess bless
willa_writes
- my sunshine and beta-supreme, and hugs to
gillo
, who brings the fine art of hyphens to life.
To read
Beloved
from the beginning, go
Here
.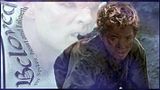 Full-sized banner by
liliaeth
beneath the cut.
(
Collapse
)
.