.
As William ages, so will our banners. This new piece of art was created by
banner_grab
. Hmm… now to break down the chapter. Takes place a couple of days after the battle in the sewers. Several recently missing characters come out of the woodwork. Angel's been keeping a secret in the... dare we say it... basement?
Please, as always, read and comment! Our sweet muse seems to have her hands full trying to juggle all these people, but we think she's acquitting herself nicely.
Goddess bless
willa_writes
for her constant support and beta work.
To read
Beloved
from the beginning, go
Here
.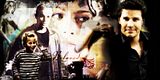 Full-sized banner by
banner_grab
beneath the cut.
(
Collapse
)
.