Had to take two buttons just to show off my happiness!
Love's Last Glimpse Awards Nominations:
Innocence Found:
Best Saga, Comedy/Fluff, Episode Stealer
Hell Is In the Details: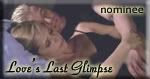 Best Saga, Angst
Thank you my darling Willa for the nomination for Hell!
Vote if it pleases you, beloved friends list. Make my day!
Click Here
.