Just thought you'd like to see the two fuzzy children who keep me connected to the earth on a daily basis.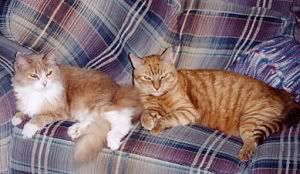 Juliet and Ringo
12 1/2 years old



On to other important business. Thank you. Each and every one of you who've left comments and notices, pieces of your heart and hard come by support are cherished and appreciated. Here's another pretty graphic from the ever increasingly talented
evilmaniclaugh



Still on the agenda: thank you's by direct email to those who haven't posted. I will never forget you. Not a single, solitary one of you. Your names, on the other hand - what do you expect? Hitting fifty and the memory ain't what she used to be. **smiles**

Forgive me if I thank you more than once. I'd rather make a pain of myself that way than risk forgetting anyone. Again, **hugs and smooches**

I am beyond grateful.

.